The Ainslie Reilly Group at Morgan Stanley
Contact Us
OUR MISSION STATEMENT
Excellence in helping clients like you with your personalized investment and financial strategies
Story and Services
As your portfolio has grown, so too has its complexity and the resources needed to manage it. As Financial Advisors, we have the knowledge, experience and commitment necessary to manage your investments on an ongoing, fully discretionary basis, providing you with objective advice on critical financial matters.

Working closely with you, we will develop an investment strategy focused clearly on your objectives — one that reflects your lifestyle expectations, cash flow needs, risk tolerance and aspirations for your family. From there, we will help you build a portfolio informed by the resources and insight available from Morgan Stanley, one of the world's largest financial firms.

When you look at wealth management from a long‐term perspective, one thing becomes clear: it's your future, not just your money. And over time, we can help you navigate the noise and distractions of challenging markets, providing a disciplined sense of focus on what's most important — your progress toward your goals.
Services Include
Financial Planning
Professional Portfolio Management
Divorce Financial Analysis
401(k) Rollovers
Lending Products
Life Insurance
Retirement Planning
Sustainable Investing
Trust Services*
Wealth Management
---
Check the background of our Firm and Investment Professionals on FINRA's BrokerCheck.
Location
130 East Seneca St, Suite 500
Ithaca, NY 14850
Events
Women, Wealth & Wellness 2017
Presented by Morgan Stanley of Ithaca
Thursday, November 2, 2017
Hilton Garden Inn
A day full of informational sessions on
topics especially relevant to women in our community.
Attendance is free and refreshments will be provided.
Join us for just one session or the entire day.
Contact us by October 30th to reserve your spot!
Click for details:
Women Wealth and Wellness 2017.pdf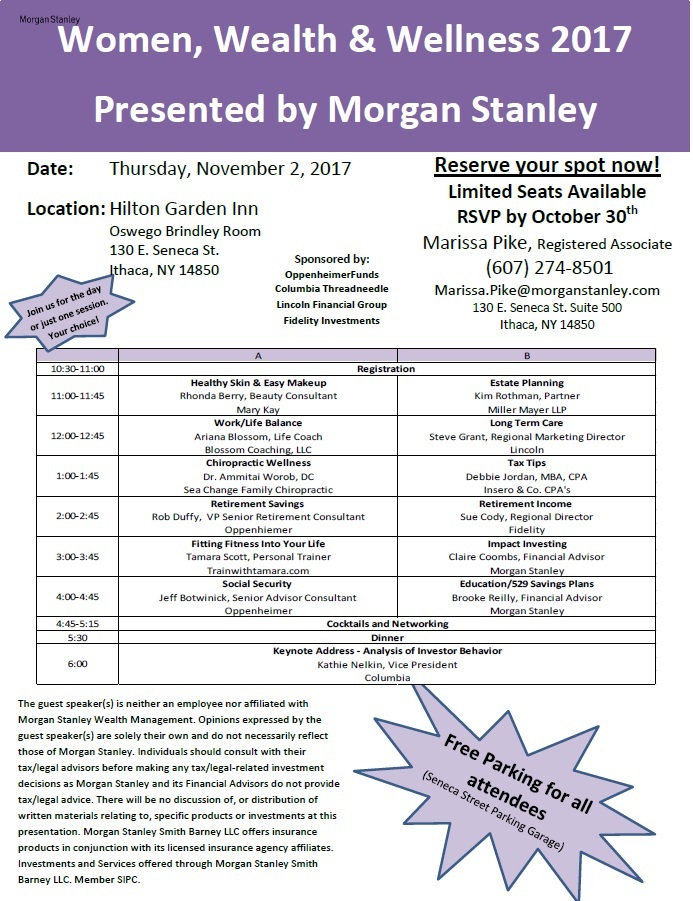 Meet The Ainslie Reilly Group
Robert Ainslie
CFP, Financial Advisor
About Me
Rob has more than 16 years of financial services experience, focusing on a mission to provide every client with targeted, comprehensive financial advice and portfolio management – delivered with the highest level of personal service and professional integrity.

With an emphasis on continuing education, Rob earned the Certified Financial Planner ™ CFP® practitioner designation from the College of Financial Planning in 2004. This certification is the recognized standard of excellence for personal financial planning.

Before joining Morgan Stanley in 2016, Rob was the Branch Manager and First Vice President at Wells Fargo Advisors in Ithaca, NY. He was also a Senior Financial Advisor at Merrill Lynch for 11 years. Prior to making a career change to financial services, Rob ran and managed the family owned Ainslie Dairy Farm for over 20 years.

Rob earned his Bachelor of Science degree in Economics and Business Management from Cornell University where he was also a member of the Cornell Varsity Football Team. He holds his FINRA Series 7, 66, 9 and 10 licenses, as well as his Life, Accident and Health Insurance license.

Rob has served on several community boards, notably as President of the Enfield Community Council and Tompkins Learning Partners. He was elected to the Ithaca City School District Board of Education in 2007, serving as Board President since 2008.

He currently lives in Ithaca with his wife Judy of 32 years, enjoying boating on Cayuga Lake and all that Ithaca has to offer.


BM/Supervisor; Securities Agent: AZ, CA, CO, CT, DE, FL, MA, MD, ME, MI, NC, NH, NJ, NY, OK, RI, SC, TX, VA, VT, WA; General Securities Representative; Investment Advisor Representative
NMLS#: 1615199

Brooke A. Reilly
Financial Advisor
About Me
Brooke has over 10 years of experience in the financial services industry. She is firmly committed to long-term client relationships and strives to deliver exceptional client service. She listens carefully to clients' goals, values, aspirations and concerns, and works to help them in achieving their financial objectives.

Prior to joining Morgan Stanley in 2016, she worked in operations at HSBC Securities and as a Registered Client Associate at Merrill Lynch and Wells Fargo Advisors. She holds the FINRA Series 7, 63 and 65 licenses, as well as the Life, Accident and Health Insurance license.

Brooke graduated from St. John Fisher College in 2006, where she earned a Bachelor of Science in Management with concentrations in Corporate and Personal Finance. While there, she was a Dean's list member as well as a member of the Varsity Softball Team.

She currently resides in Tully with her husband Justin and their young son Kian. Away from the office, Brooke enjoys spending time with her family, traveling and anything outdoors.


Securities Agent: AZ, CA, CO, FL, IL, MA, MD, ME, MI, NC, NH, NJ, NY, OK, RI, SC, TX, VA, VT; General Securities Representative; Investment Advisor Representative
NMLS#: 1612990

Investment and Market Perspectives
On the Markets
Ready to start a conversation? Contact The Ainslie Reilly Group today.
Dow 
  141.57
24207.16
4:45PM
Nasdaq 
  10.86
7034.69
5:15PM
S&P 500 
  5.80
2616.1
4:45PM
Market Information Delayed 20 Minutes