President Donald Trump has proposed corporate tax reform as a means of promoting growth and improving the business environment for U.S. companies, highlighted by a reduction of the federal corporate tax rate to 15% from the current 35%. For investors, retaining a greater share of pretax profits is an attractive proposition, but will tax reform benefit certain sectors more than others? And how much of an impact would these policy shifts have on the broad market?
To answer these questions, let's examine the levels of taxes paid by companies in different market sectors. While the 35% tax rate does apply to the majority of publicly traded corporations, companies typically seek to reduce their tax bill through deductions. We calculated the percentage of pretax profits paid in taxes in the trailing 12 months.
Effective Tax Rates


In aggregate, U.S. companies paid tax at a 21.5% rate (see chart below). Consumer staples, consumer discretionary and telecom companies have paid at rates in excess of 25% as their businesses generate fewer deductions. These higher tax-paying sectors would realize the largest benefit from a decline in the marginal tax rate.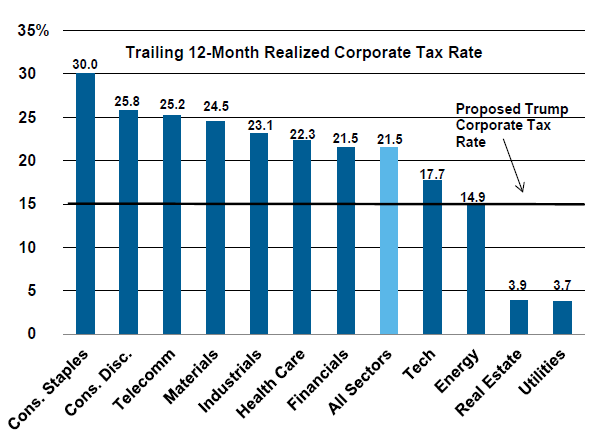 On the other hand, real estate companies that benefit from corporate tax exempt real estate investment trust structures, and utilities that enjoy deductions from depreciation related to large capital spending needs already pay very modest tax rates. Thus, they are unlikely to see substantial benefit from further rate reductions.
Secondly, how much earnings benefit would broad U.S. equities see from a 15% corporate rate? While the interplay of tax rates and corporate earnings is complicated, we performed a simplified analysis: first, we looked at sector-specific earnings expectations for the S&P 500 companies for 2017.
Next, we examined the potential effect of the tax rates embedded within those expectations shifting from the rate of the past year to a flat rate of 15%.
Earnings Boost


As given in the table below, sectors with highest tax rates stand to reap the greatest benefit, with consumer staples seeing a rise in earnings per share of more than 20%; likewise, sectors with lower tax rates see a negative effect. In total, the S&P 500 gets a significant 8.2% benefit in earnings per share.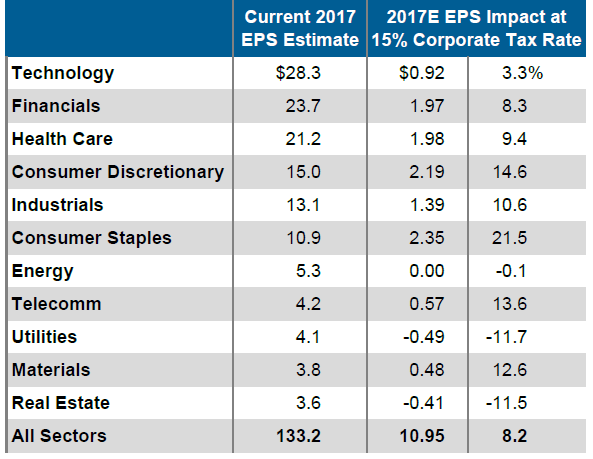 Given the nature of the legislative process, tax reform will take time. But lower corporate tax rates may yield benefits for investors, and the outperformance of companies paying high tax rates postelection suggests market confidence in their ultimately becoming policy.


Risk Considerations


Equity securities may fluctuate in response to news on companies, industries, market conditions and general economic environment.
Companies paying dividends can reduce or cut payouts at any time.
Rebalancing does not protect against a loss in declining financial markets. There may be a potential tax implication with a rebalancing strategy. Investors should consult with their tax advisor before implementing such a strategy.
Value investing does not guarantee a profit or eliminate risk. Not all companies whose stocks are considered to be value stocks are able to turn their business around or successfully employ corrective strategies which would result in stock prices that do not rise as initially expected.
Growth investing does not guarantee a profit or eliminate risk. The stocks of these companies can have relatively high valuations. Because of these high valuations, an investment in a growth stock can be more risky than an investment in a company with more modest growth expectations.
Investing in smaller companies involves greater risks not associated with investing in more established companies, such as business risk, significant stock price fluctuations and illiquidity.
Stocks of medium-sized companies entail special risks, such as limited product lines, markets, and financial resources, and greater market volatility than securities of larger, more-established companies.
Asset allocation and diversification do not assure a profit or protect against loss in declining financial markets.
The indices are unmanaged. An investor cannot invest directly in an index. They are shown for illustrative purposes only and do not represent the performance of any specific investment.
The indices selected by Morgan Stanley Wealth Management to measure performance are representative of broad asset classes. Morgan Stanley Smith Barney LLC retains the right to change representative indices at any time.
Because of their narrow focus, sector investments tend to be more volatile than investments that diversify across many sectors and companies.